View MLS listings for houses, cottages, vacant land and waterfront properties for sale in Bracebridge, ON. Listings are updated daily so please check back.
Please call me for more information or to view these properties call me at 705 774 1552.
First incorporated as a village in 1875, Bracebridge was built around a waterfall on the Muskoka River. The town is the seat of the district government, a centre of tourism for the Muskoka area, and home to several historical sites, such as the Clock Tower, Woodchester Villa, and the Silver Bridge, which joins Manitoba Street with Ecclestone Drive. The character of the town of Bracebridge is shaped by its proximity to Lake Muskoka to which it is connected by 6 miles of the Muskoka River, and by the promise of abundant water power afforded by the great waterfall at the foot of the downtown.
Early growth of the town occurred in proximity to the falls which powered the first factory. The arrival of the Grand Trunk Railway cemented the town's role as a transportation hub for the area.  In 1894 Bracebridge became the first town in Ontario to have its own hydro generating station. In 1971 Macaulay Township was merged into Bracebridge.
Bracebridge is served by several elementary schools and two high schools: Bracebridge and Muskoka Lakes Secondary School, and Saint Dominic Catholic Secondary School. Public education is administered by the Trillium Lakelands District School Board, and Catholic education is administered by the Simcoe Muskoka Catholic District School Board. Bracebridge is immediately adjacent to Highway 11, a major provincial highway that connects the community to Greater Toronto in under 2 hours, as well as to markets in Northern Ontario. Muskoka Airport, which serves general aviation and scheduled flights from Billy Bishop Toronto City Airport, is located 5 km south of Bracebridge.
While rail service to Bracebridge has been discontinued, the community is serviced by coach bus line that departs from the Bracebridge Quality Inn and takes passengers south to Toronto and north to North Bay. In 2016 the municipality launched Bracebridge Transit, a one-hour, single-route schedule that gets residents around the urban core. Bracebridge Mobility also offers door-to-door service to individuals who are unable to access the regular transit service due to mobility issues.Bracebridge is the home of Santa's Village, a Christmas theme park, established in 1955. It was inspired by the town's location at 45 degrees latitude, halfway between the equator and the North Pole. In 2016, Bracebridge held its first annual Fire and Ice Festival. The Bracebridge Sportsplex contains a rock climbing wall, indoor track, eight-lane swimming pool and fitness studio. The town partnered with the Muskoka Limberettes Gymnastics Club to create a gymnastics facility in the same building.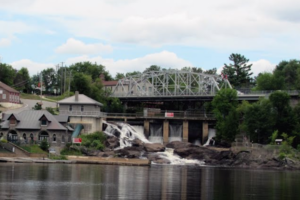 Current listings for homes, cottages and vacant land for sale in the Bracebridge, Muskoka area
Data was last updated June 1, 2023 at 05:15 PM (UTC)