View MLS listings for houses, cottages, vacant land and waterfront properties for sale in Gravenhurst, ON. Listings are updated daily so please check back.
Please call me for more information or to view these properties call me at 705 774 1552.
The Town of Gravenhurst includes a large area of the District of Muskoka, known to Ontarians as "cottage country." The town centre borders on two lakes: Lake Muskoka, which is the largest lake in the region, and Gull Lake, a smaller cottage-bordered lake. Another lake, Kahshe Lake, is situated 10 kilometres (6.2 mi) south of the town.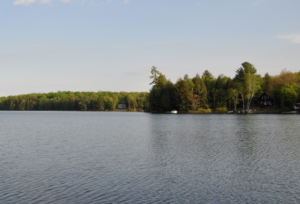 Gravenhurst was first known as McCabes Landing and later as Sawdust City. Gravenhurst was named by a postal official who was reading Gravenhurst or Thoughts on Good and Evil, a treatise by William Smith.
Gravenhurst's economic prosperity stemmed from the construction of a colonization road in the 1850s. Steamboating on the Muskoka lakes began in the 1860s. The town was located strategically at the northern terminus of the Toronto, Simcoe and Muskoka Junction Railway. Between 1940 and 1946 Gravenhurst was home to a German prisoner-of-war camp known as Camp 20.
Gravenhurst is the home port of the RMS Segwun, the oldest vessel powered by a working steam engine in North America.
Parts of the Queen Elizabeth II Wildlands Provincial Park and Torrance Barrens Conservation Reserve are in Gravenhurst.
The Muskoka Wharf, located on Lake Muskoka, was completed in 2005. The project cost $170 million and spreads across 89 acres. Before the new development was built, the wharf used to be used for lumber and boat building industries. It was also the entry point to the lakes. Years ago, a train would arrive at the wharf three times a day with passengers coming to Muskoka looking to settle.
Today, the wharf is full of retailers and restaurants like Boston Pizza and the Blue Willow Tea Shop. The wharf hosts a number of events in the summer including Pirate Fest and the Gravenhurst farmers' market.
Every year Gravenhurst has a winter carnival with events including donut eating contests, sno-yoga, ball hockey, a polar dip, and arm wrestling. The town has several dances for anyone ages nineteen and older as well as fireworks on the Wharf.
Ontario Northland Motor Coach Services provides inter-city bus service to Gravenhurst along its Toronto to North Bay routes. The nearby Muskoka Airport has scheduled flights to Billy Bishop Toronto City Airport and also serves general aviation.
Located on the shore of Lake Muskoka since 1949 Gravenhurst has been home to the Ontario Fire College. The campus also provides a location for Ontario Provincial Police marine and K-9 training.  https://www.gravenhurst.ca/en/index.aspx
Data was last updated October 2, 2023 at 08:15 PM (UTC)