View MLS listings for houses, cottages, vacant land and waterfront properties for sale in Kearney, ON. Listings are updated daily so please check back.
Please call me for more information or to view these properties call me at 705 774 1552.
Kearney is a town and municipality in the Almaguin Highlands region of Parry Sound District. With a landmass of 531 square kilometres and a year-round population of about 882, Kearney claims to be the "Biggest Little Town in Ontario."
In 1879, in the north-east corner of the township, settlers Arthur J. O'Neil and his partner William Kearney opened a store on the 12th Concession, near what is now Cherry Hill Road. In the following year a post office was opened in "Kearney Store" and inherited the name.
Kearney prospered as a logging town with many sawmills and lumber camps. The logs were floated down the Magnetawan River, some as far as Byng Inlet.
With the arrival of the Ottawa, Arnprior and Parry Sound Railway in 1895, a siding was built at the foot of what was known as Long Lake (now Perry Lake). The commerce of the village shifted to the east side of the lake. In 1908, Kearney separated from the township of Perry, and it was incorporated as a town.
Kearney is a gateway to Algonquin Park wilderness with three access points – one at Tim Lake, one at Magnetawan Lake and Rain Lake.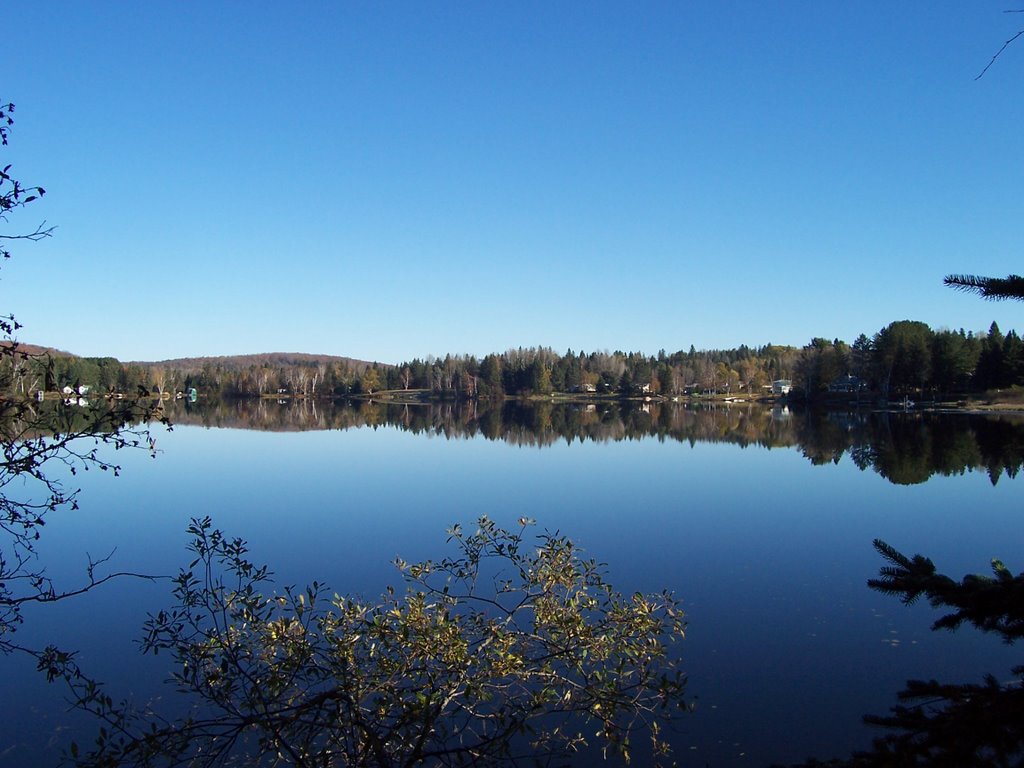 Both canoe and hiking routes can be accessed from these park entry points. In the early years, the train took visitors right into the park. Today the roads run right back into the park's three access points. Lakes within the town boundaries, including Clam, Beaver, Fisher, Grass, Island, Loon, and Sand Lakes, are vacation destinations for many visitors – boasting cottages, resorts, and campgrounds. Bear, moose and deer hunting provides sport for hunters coming to the area.
The Kearney Community Centre houses the municipal offices, library, and seniors room and banquet facilities. The centre offers indoor activities during the weekdays and has a number of groups including the Royal Canadian Legion, the Lions Club, and various church and other groups.
Annual events include the Blackfly Festival, Lions Club Lobsterfest, Creative Changes Art Show, Sand Lake Regatta, Kearney Regatta, Kearney Lions Club Pancake Breakfast, Christmas Fun Fair and Craft Sale, the "Kearney Dog Sled Races", and Sand Lake Thanksgiving Sunday Turkey Shoot. Kearney is also well known for its impressive firework show held every July, and the restored pioneer log church at Sand Lake.
Kearney's history of logging also helped create the trails for their dog sled races in the winter. The races, which are organized by the Kearney Dog Sled Race Committee, have grown in popularity with both spectators and racers since its inception in 1995.  https://townofkearney.ca/
View all the MLS listings for cottages and vacant land for sale in the Kearney area of the Muskokas.
Data was last updated October 2, 2023 at 06:45 PM (UTC)