View MLS listings for houses, cottages, vacant land and waterfront properties for sale in Lake of Bays, ON. Listings are updated daily so please check back.
Please call me for more information or to view these properties call me at 705 774 1552.
Lake of Bays is a township within the District Municipality of Muskoka, Ontario. The township, situated 193 kilometres north of Toronto, has a population of about 3,200 and encompasses 677.91 square kilometres of land.
Located in the northeast corner of Muskoka, the Lake of Bays offers a natural landscape of forests, rocks, lakes and wetlands. It is an important cottaging, recreation and tourism destination in Ontario.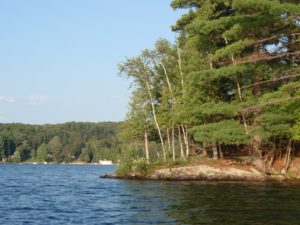 Currently, the economy of the township is primarily based on tourism, recreation, and the service sector with forestry and aggregate (composite) extraction contributing as well.
The Township of Lake of Bays was established in 1971 from the former Townships of Franklin, Ridout, McLean and Sinclair/Finlayson (unorganized) as one of six area municipalities within the District of Muskoka.
In the early 20th century several grand resort hotels opened on the lake, among them the Wawa (built in 1908 and destroyed by fire in 1923) and the Bigwin Inn, a resort that operated on Bigwin Island from 1920 until the late 1960s.
The township includes the communities of Baysville, Bigwin, Birkendale, Bona Vista, Bondi Village, Britannia, Brooks Mills, Browns Brae, Dorset, Dwight, Fox Point, Glenmount, Grandview, Grassmere, Grove Park, Hillside, Limberlost Lodge, Lumina, Maple Ridge, Millar Hill (ghost town), Nith Grove, North Portage, Norway Point, Port Cunnington, Sea Breeze, South Portage and Wahawin. https://www.lakeofbays.on.ca/en/index.aspx
Data was last updated December 2, 2023 at 12:45 AM (UTC)